Clementsville
Located in the NW corner of Teton County, Idaho
Half way between Tetonia and Newdale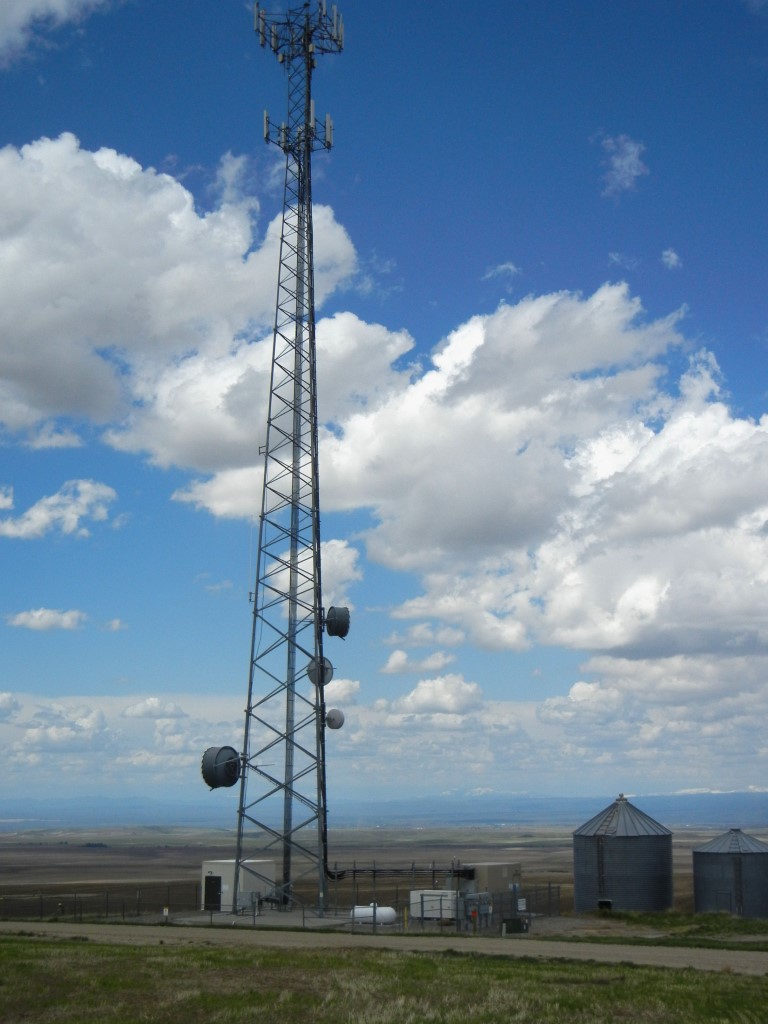 Space is available on this 190ft Rohn/Radian SST Tower.
Located 10 miles West of Tetonia and 12 miles East of Newdale, ID in an agriculture and recreation area with lots of expensive homes. The Driggs valley is famous for Grand Targhee Ski Resort, great hunting, camping, and fishing. Many people traveling to the Driggs Valley, Jackson Hole, and Grand Targhee Ski Resort travel through this area on Highway 33. Lots of development is going on as there is little room for expansion in Jackson Hole.
We can e-mail you any of these pictures with much higher resolution. Just click on the "Contact" button on the main page.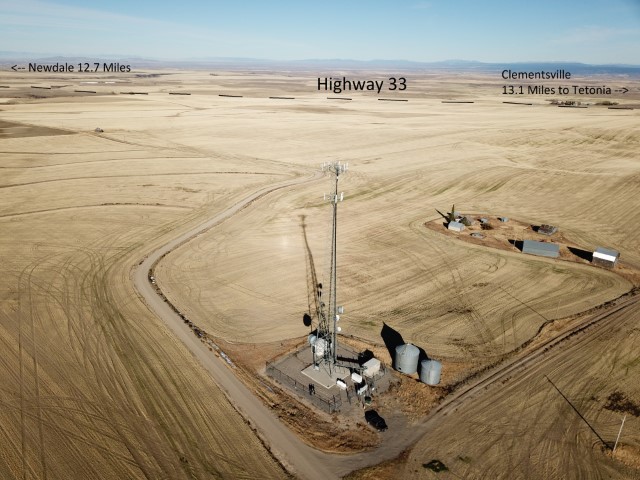 Click on pictures for a larger image.
Click "BACK" to return to this page.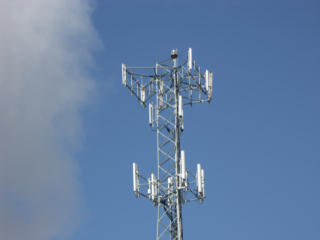 Click on pictures for a larger image.
Click "BACK" to return to this page.
Space is available at the 180ft level and below.
SITE STATS
Site #
310CLEM
Address:
13002 West 14000 North
City, State:
Tetonia, Id 83452
County:
Teton County - NW Corner
Lat/Long:
43 51 08.0N 111 21 42.2W NAD 83
Ground Elevation AMSL:
6361 ft.
Tower AGL:
190 ft. - Rohn SST
FCC Tower Number:
1231857
FAA Study Number:
2010-ANM-426-OE
Lighted & Marked:
None
Fence:
6ft commercial grade fence with barbed wire
Easy access:
2.5 miles from State Hwy 33. County usually plows road to within 1/2 mile from site.
Driving Instructions:
From Rexburg going North on US Hwy 20. Turn right onto State Hwy 33. One mile after entering Teton County, turn right on 14000 West. At 2 miles, continue on main road which turns left - 1/2 mile to tower.
Utility Information
Power:
Rocky Mountain Power - 200 amp service per carrier. Both Primary and Secondary are buried in conduit.
Telco
Fiber plus 50 pair telco cable - Silver Star Telecom
Backup Generator:
No
Engineering:
Tower is engineered to hold 6 AMPS platforms at 190, 180, 170, 160, 150, and 140ft. levels. Microwave dish loading is capable of 3 6ft dishes at 130ft, 3 6ft dishes at 120 ft. and 2 6ft dishes at 110ft.
GROUND RESISTANCE TEST RESULTS
Tester: AVO model DET 620

Calibration date: 01-11-02

East
4.3
South
3.7
West
1.2
Weather
cold and snowy
Notes:

Fences and fence grounding had not been installed at time of test.
SITE LAYOUT
Click here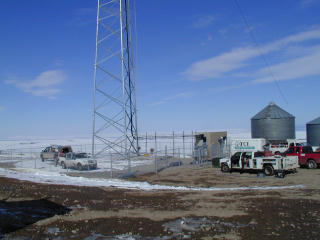 This page shows the tower while under construction.
Construction was completed on March 6th, 2002.
Here the fence is going up and radios are being installed in AT&T's building.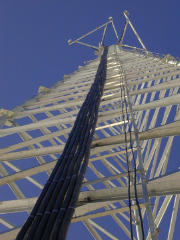 The tower is designed to hold 6 AMPS platforms at the 190, 180, 170, 160, 150, and 140 foot levels. Here the cables are being run for the top platform.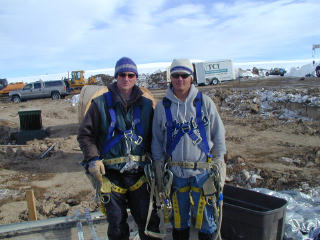 Two of our tower climbers.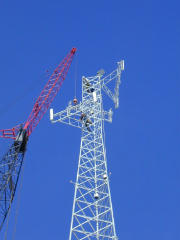 The top AMPS platform is being raised along with the panel antennas for AT&T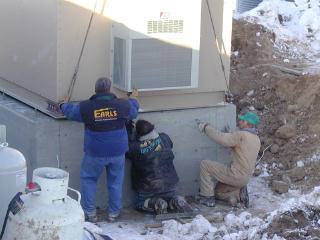 AT&T's building is being placed on the foundation.
To see more pictures click here.